Syrians adopt Pokemon Go to highlight plight of children
Comments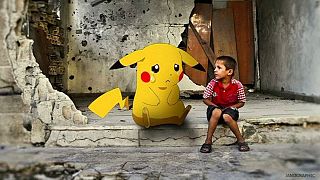 The war has endured for more than five years.
Now children in Syria are using the Pokemon Go craze to highlight their plight.
It wants gamers to take a break from their hunt for Pikachus, squirtles and weedles.
And focus on their battle for survival in a war zone.
The awareness campaign was launched by the Revolutionary Forces of Syria Media Office, which is opposed to President Assad's regime.
The photos identify the child and his town or village.
The images are in Arabic, one of which translates: "I am trapped in Douma in east Ghouta, help me."
The messages have been shared thousands of times on social media.
It comes as 20 children were killed this week in airstrikes in Manjib.
Unicef recently warned that 35,000 minors were trapped in the city, which is controlled by the so-called Islamic state.