Republican Convention: A view from Texas
Comments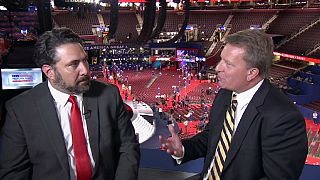 Euronews correspondent Stefan Grobe is in Cleveland, Ohio at the Republican National Convention. He spoke to Sergio Sanchez, a national alternate delegate from the Great State of Texas.
It's always a circus. Every primary season in the US, it's a circus on both sides

Republican National alternate delegate Texas
Grobe: Concerning the political atmosphere at this convention there has been mention of such diverse topics as potatoes in Idaho and Hillary Clinton being connected to the Devil. What is going on here?
Sanchez: It's always a circus. Every primary season in the US, it's a circus on both sides, it's a political circus, and there's a lot of colour, and language, and expressions, it's all euphemism, it's all expected, it's just part of the course.
Grobe: What people in Europe are not seeing here, is the usual American diversity. It's still a predominately White party. Now you are from Texas. You are a Latino. The New Yorker came out with the story that the most awkward job is Latino outreach for Republicans. What's your point? How can Trump win this people over?
Sanchez: Well, I would have to say that in the primary with 17 candidates, the diversity was there, with a woman and an African-American, and Hispanics on the ticket, in the end, it was an outsider that won. A businessman, a citizen, someone who truly is an outsider to the political process. People came out of the woodwork, and voted for him. I saw a record number of voters in my region, Texas, that's deep south Texas, at the border. I had three times the numbers of Republicans that normally came out. Just anecdotally looking at some of the data, because I'm privy to that. I saw a lot of people who haven't voted in many years who came out and voted, many election cycles, who came out and voted. A little bit of a crossover from the Democrats to the Republicans as well. For me, selling Donald Trump, for me it's an easier sell, because I came into politics, look I'm in media, I've been working in media for 20 years in South Texas running a news talk station, so I know the market, I know my market. For me it's an easier sell because in 2010 I saw the Tea Party revolution, where 65/66 members of Congress were booted out, lots of new citizens went up there. This is, I believe, an extension of that. Where people don't want politics as usual. For me it's an easier sell.
Grobe: Before Donald Trump can unite the country, he has to unite the party. Do you think he's going to succeed in that?
Sanchez: I think so, with the appointment of governor Pence. That's a very wise appointment. Governor Pence is part of that Tea Party revolution. He is someone who knows how to get legislation through, and also to work with the other side, but more importantly he represents the conservative base of the Republican party to solidify that part of the party that was unsure for him, which was the more conservative base, the more Tea Party base. Governor Pence brings that to the table.
Grobe: There is a possibility that Trump might lose. Right? What happens to the Republican party if he loses?
Sanchez: I would hope that another outsider courageous enough to run in the future. Now we've got a field of 16 other candidates who ran, some are very establishment. I'd hoped that Cruz would run again. I would hope that people like Dr Carson – he's another outsider- would, decide to run again. But learning that political jargon, and the language, I'm not focusing on defeat right now. I'm focusing on victory for November and Donald Trump is going to win.