Pro-government supporters welcome new security measures
Comments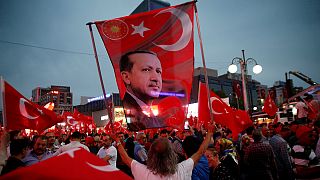 Thousands of supporters of Turkey's government have once again gathered in Ankara's main Kizilay square. This time they heard their president announce new security measures including the move to introduce a state of emergency.
The environment for political compromise is stronger than ever

Turkish Deputy Prime Minister
"Whatever Recep Tayyip Erdogan says, we are at his disposal as Turkish people. Foreign countries should understand that. We are at Recep Tayyip Erdogan's disposal and we will follow his path. If he says die, people here will die," said one government supporter following the announcement.
The message of confidence in the government was echoed by another:
"God willing, whatever is necessary will be done by our government. We trust them. We will continue to wait here and this nation will overcome this."
Part of the measures already in operation is a crackdown on suspected coup plotters and supporters.
A purge of state institutions and has resulted in about 60,000 people being either arrested or suspended.
Before announcing the state of emergency, President Erdogan said the sweep was not yet over.