Ankara residents react as Turkey's state of emergency comes into effect
Comments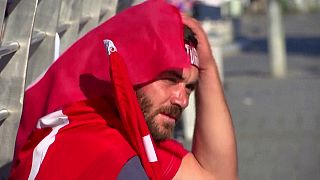 The atmosphere on Thursday morning in Ankara, on the day Turkey's three-month state of emergency came into effect, was more sombre than it was the previous night when thousands of President Erdogan's supporters gathered in the main square.
The country's Deputy Prime Minister Mehmet Simsek has said the economy will continue to operate as normal.
For one resident of the Turkish capital, the state of emergency is a repressive measure.
"I think it could make things worse in a country where we have no freedoms. We will probably have less freedoms and (more) dominance. Maybe people will become conscious of the value of their freedoms and maybe at least they will fight more for those freedoms," Hasan Tayyar said.
Another man felt there was no alternative after the failed coup attempt, which saw hundreds killed and more than a thousand injured.
"Either we trust or support the ruling party or we don't. What happened is really bad. We need to put things right as soon as possible. Those responsible should be removed," Mehmet Yucel said.
In Istanbul a handful of Erdogan supporters remained in Taksim Square after Wednesday night's rally.
Some said they did not expect their lives to change. But one woman warned that Turks were "not in a very safe country".
The president has pledged to rid the military of the "virus" of subversion and give the government sweeping powers to expand a crackdown that has already included mass arrests and the closure of hundreds of schools.
The emergency measures could bring longer detentions for thousands of people rounded up since the coup was repelled.