Brexit - a question of timing for Hollande and May
Comments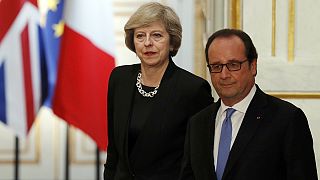 The journey matters as much as the destination for Theresa May, and she is clear she wants to take her time exit the EU.
After their first meeting in Paris, the French President appeared to offer some breathing space to the new UK prime minister on triggering divorce proceedings, but pressed home an argument with universal appeal.
"Uncertainty is the biggest danger. While citizens and economic players have doubts about what we are going to do…this creates risks for stability, for the European economy and therefore risks for employment, which is something we are firmly committed to protecting."
By travelling to Berlin and now Paris, her first foreign tour is an attempt to persuade the EU's biggest players not to punish Britain over Brexit. May also underlined Britain and France's shared interests, by reeling off some numbers.
"Last year the value of our bilateral trade reached 50bn euros. We are one another's fifth largest export markets. Today, French companies employ 360,000 people across the UK. And we are the fourth largest investor in France and I want to reiterate that Britain remains open for Business. That French citizens and their EU counterparts can continue to work in Britain."
Hollande echoed the sentiment saying that British citizens living in France could stay. But he made clear that in order to stay in the single market, the UK must accept free movement of workers.
On border controls, they agreed that the British border should remain in Calais. Hollande said, "We consider it as our duty … to apply it and also to improve it."
While May ended by asking for constructive discussions in the run-up to formal Brexit talks, for Hollande pre-negotiations were out of the question.
But on one matter they were unequivocally united – the fight against terror. May said that that Britain stands 'shoulder-to-shoulder with France' and offered her condolences to the families of the victims of the Nice truck attack.