Silk Way Rally: Organisers forced to cancel Stage 11 due to extreme weather conditions
Comments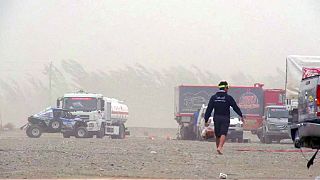 Stage 11 of the Silk Way Rally was cancelled due to extreme weather conditions in the Gansu Province in China.
An overnight sandstorm forced organisers to pull the plug on the 609km trek from Dunhuang to Jiayuguan as planes and helicopters ensuring the safety of the drivers throughout the competition, were grounded.
Teams headed to the Jiayuguan bivouac, located west of the Great Wall of China. Peugeot drivers Cyril Despres still leads the overall standings while Stephane Peterhansel is currently sitting 23rd.
"We knew that this could happen," said the Dakar Rally champion. "There was a huge sandstorm last night so the race will be shortened, we just have to accept it."
In the trucks category, Dutch sensation Maarten Van Den Brink leads Airat Mardeev by 4 minutes and 32 seconds going into Stage 12.
Stage 11 of the 2016 Silk Way Rally has been cancelled due to a sandstorm in China's Gansu Region. #SWR2016

— SilkWayRally (@silkwayrally) 20 July 2016