Questions over Germany's refugee policy after train attack
Comments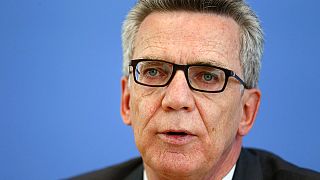 Germany's Interior Minister sought to play down any link between the government's refugee policy and the axe attack by an Afghan asylum seeker aboard a train in Bavaria.
The anti-immigrant AfD party has already criticised the Chancellor's migrant policy which saw more than 1 million people entering the country in the last year.
The Interior Minister Thomas de Maziere told reporters at a press conference on Wednesday (20.7.16):
"Here too it is the case, as we have indicated multiple times, that we do receive indications of links between the refugees who come to us and international terrorism. In most cases these indications turn out to be false, but there are some that still need to be examined. Therefore we cannot say that there is no link between refugees and terrorism."
The teenager was shot dead by police after seriously wounding four people from Hong Kong, travelling on the train near the city of Wuerzberg, two remain in a critical condition.
"When you see that the victims are people from Hong Kong and China, who don't outwardly represent the German, western way of life, that shows how excessive this violence was," de Maziere told journalists.
The police investigation points to the attacker being a 'lone wolf' influenced by ISIL propaganda.
The government said it had introduced new security measures, but warned the country should brace itself for further attacks.