Now it's official! Trump formally clinches Republican presidential nomination
Comments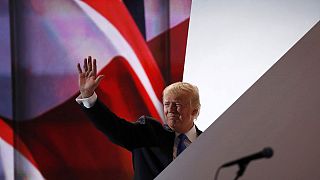 Just over a year after launching an improbable bid for the White House, Donald Trump has formally clinched the Republican presidential nomination.
The will of the people has chosen Donald Trump

Boxing promoter
In a state by state roll call vote on Tuesday, his son Donald Trump Jr. made the announcement that put his father over the required delegate threshold, at the National Convention in Cleveland, Ohio.
Trump, 70, reacted via video link from New York.
"A little over one year ago, I announced my candidacy for president and with your vote today, this stage of the presidential process has come to a close," he said.
"Together, we have achieved historic results with the largest vote total in the history of the Republican party. This is a movement, but we have to go all the way."
Such a great honor to be the Republican Nominee for President of the United States. I will work hard and never let you down! AMERICA FIRST!

— Donald J. Trump (@realDonaldTrump) 19 juillet 2016
Donald Trump Jr. also addressed the convention, hailing his father and receiving a rapturous reception.
Donald Trump Jr. on father: "When we elect him...we'll have made America great again, greater than ever before." https://t.co/BeoM3fFkRX

— ABC News (@ABC) 20 juillet 2016
A day earlier, critics had failed in efforts to force a vote opposing Trump's candidacy.
Those behind the billionaire businessman, like former New York City Mayor Rudy Giuliani, believe Trump is the man America needs.
"We are now disrespected," Giuliani said from the conference floor.
"We are being pushed around by Putin. We are being pushed around by the Ayatollah. We are being killed by Islamic terrorists and we have police officers who are being slaughtered on the streets. Under Donald Trump that will end on day one."
So, can Trump deliver a knockout blow in November?
Veteran boxing promoter Don King hopes so.
"Why not get somebody who will stop and fight with us and for us? And that is why I support the will of the people and the will of the people has chosen Donald Trump, in spite of the parties and all their diabolical schemes and undermining methods," King said on the sidelines of the convention.
Having never held elected office, anti-establishment Donald Trump has indeed beaten the odds, defeating 16 party rivals to win the nomination and provoking controversy at every turn.
Trump's Democratic rival, Hillary Clinton, who has been the target of withering verbal attacks on the first two days of the four-day convention, was quick to respond to the nomination vote.
She tweeted: "Donald Trump just became the Republican nominee. Chip in now to make sure he never steps foot in the Oval Office."
Nonetheless, she would be well advised to write Trump off at her peril.