Italian police seize seven million euros of fake banknotes, including new 20 bill
Comments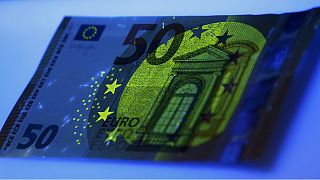 Italian police have seized more than seven million euros in fake banknotes.
They include copies of the new style 20-euro, brought in last year with new security features to deter counterfeiters.
A sophisticated printing operation was uncovered in an apartment outside Naples, according to police – and it was in full operation when officers launched their raid.
Three men have been arrested.
The 20 euro note was updated having become the most frequent target for counterfeiting gangs.
"This is the first print shop of the new 20-euro series we've discovered," said Lieutenant Colonel Guglielmo Sanicola.
"The fake bills don't need to be perfect, just good enough to trick the average consumer. And these were very high quality."
The area around Naples, Italy's third largest city, is a hotbed for euro counterfeiters. Multiple seizures of millions of euros in fake bills have been made there in the past two years, including more than 50 million euros of fake 50-euro notes in January last year.