No apologies: Boris Johnson holds first press conference with Kerry
Comments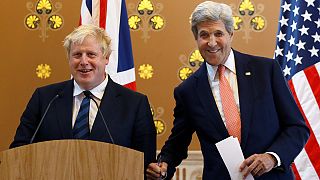 The UK's new foreign secretary had a veritable grilling at his first press conference alongside his US counterpart John Kerry. Boris Johnson deflected questions over undiplomatic utterings and emphasised the serious work he has to do, starting with Syria.
Striking a serious tone, he said:
"The whole country is facing another terrible humanitarian catastrophe, and therefore a potential leap in the number of refugees seeking to escape Syria. Russia in particular has a unique ability to persuade the Assad regime to end the carnage and return to the negotiation table".
Speaking more generally, Johnson laid out his vague foreign policy vision as 'more outward looking' in the wake of the Brexit vote.
In meetings w/ theresa_may</a> & <a href="https://twitter.com/BorisJohnson">BorisJohnson in #London, we reaffirmed that the #specialrelationship is unbreakable. pic.twitter.com/kUvNVdEFUL

— John Kerry (@JohnKerry) July 19, 2016
John Kerry said the special relationship with the UK was as essential as ever, despite the country's vote to leave the EU. However, he added that it was important for the EU to strike a trade deal with the US, adding there was no way for Britain to make a pact before Brexit negotiations had concluded.
Getting down to business, later on Tuesday (19.7.16) the pair will meet with EU counterparts to discuss Syria and Saudi and UAE foreign ministers on Yemen.
Kerry responding to a journalist about working with Johnson said, "Our ambassador to the EU told me 'this man is a very smart and capable man'. That's the one I intend to work with."
The most embarrassing moments came when journalists from across the Pond quizzed Johnson on his previous statements calling for apologies for his less than diplomatic statements.
That moment when a journalist asks you about that time you described Hillary Clinton as a "sadistic nurse" pic.twitter.com/qCSGeNWeIU

— Sophy Ridge (@SophyRidgeSky) July 19, 2016
Johnson replied saying that comments made during his journalistic career were 'misconstrued' and that it would take too long to apologise for the 'rich thesaurus' of rude remarks he had made over the years.
John Kerry reacted to a journalist accusing Boris Johnson of telling "outright lies" 4 different ways in 1 second. pic.twitter.com/u8FMNcfVYd

— Jamie Ross (@JamieRoss7) July 19, 2016