Putin says claims of Russian doping 'political'
Comments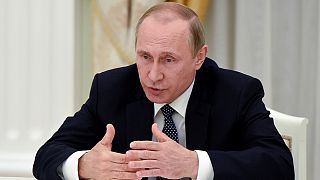 Vladimir Putin said the latest report on doping among Russian athletes lacked substance and was highly political.
The Russian president said officials named in the report will be temporarily suspended, but he asked the World Anti Doping agency to back up its claims with more "objective" information.
In a statement published by the Kremlin, Putin said politics were interfering with sports as they were during the Cold War.
In Moscow, student Vsevolod Zubov said: "It's strange to single out Russian sportsmen for doping, because look at other countries – every other sportsman uses steroids, they fail doping tests, but no one there is banned – it's all political."
Pavel Smirnov, a graphic designer, said: "Of course it's better to succeed in sport without doping….But whether that's possible nowadays – that's the question."
Putin however said Russia had made very clear there was no place for doping in sport, as it endangers athletes' health and lives, and discredits fair play. He warned the Olympic movement could be on the verge of a split.