Nice attack - what we know about the victims
Comments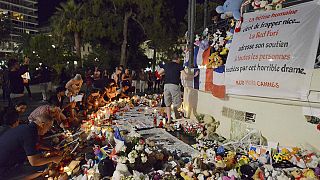 Following the attack on Friday in which a suspected terrorist drove a truck through crowds of Bastille Day revelers, the dust in Nice is starting to settle, and the victims of the attack that left 84 dead — many of whom are children — are starting to be identified.
A total of 303 people were hospitalised after the attack. Some 65 remain in hospital this morning and 18 of those, including one child, are in such a critical condition that the death toll is expected to rise.
Six members of the same family
Christophe Lion, his wife Veronique, and her son Michael Pellegrini, travelled with his in-laws Francis and Christiane Locatelli from Herserange, Meurthe-et-Moselle, north-east France to the French Riviera for a short holiday. Upon arrival they met his parents, Gisele and Germain Lion, 63 and 68, from Bram, southern France. The group were out celebrating Bastille Day last Friday on the Promenade Anglais, but only Christophe would survive the night – both his wife and her son, his parents and in-laws, were all killed when a heavy truck piled through crowds. He was too traumatised to talk to the media, local news outlets reported.
Yannis Coviaux, 4, France
Yannis Coviaux, 4 años, fallecido en Niza – victima del atentado de la noche del 14 de Julio, in memoriam. pic.twitter.com/Sb6ZjwjpAF

— Porvenir (oficial) (@EspanaFN) July 17, 2016
"I am empty. There's nothing there any more. It's as if my heart has been ripped out", Mickael Coviaux, whose son Yannis died on the Promenade Anglais, told Le Parisien.
"We were set up on the beach with the wife of a friend, his nieces and two children. Yannis was delighted; he was jumping around everywhere, was being silly with his friends. It was a lovely evening."
"My son was a bit further away, with his friends," Coviaux said. "My automatic reaction was to grab hold of my wife, to get her out of it and to let myself be flattened. The lorry came within 10cm of me. When I got back up, there was this crowd, and I prayed to the good Lord that Yannis was safe and sound. When I saw him on the ground, I knew immediately."
Mr Coviaux ran with his young son is his arms among the confusion and bedlam that followed the attack, in an effort to get him to a hospital. People stopped to help, taking him part of the way in a car before finding an ambulance, but it was too late, Yannis could not be resuscitated and died, aged just 4 years old.
Viktoria Savchenko, 21, Russia
Bu da 21 yaşında Rusya vatandaşı Viktoria Savchenko. pic.twitter.com/YOOEx9Ryo3

— Kaya Alexander Heyse (@KayaHeyse) July 15, 2016
21-year-old Russian student Viktoria Savchenko was visiting Nice with a friend when she was killed on the Promenade Anglais.
On a break from studying at the Russian Academy of Finance, Miss Savchenko was among thousands celebrating Bastille Day in Nice.
Her friend Polina Serebryannikova, 22, who survived the attack said: "My friend and I were walking on the promenade. We saw this truck moving in a strange trajectory. My friend was hit and died.
"I have been taken to the hospital. I have broken toes on one foot, and my other leg is swollen."
Fatima Charrihi, 60
Fatima Charrihi, 62 ans. Les premières victimes de ces actes sont des gens comme vous et moi. #Nicepic.twitter.com/tkKt7qyFL5

— Wissame Cherfi (@wissamecherfi) July 17, 2016
Ms Charrihi, a mother of seven, was killed. Her son, Hamza, believes she was the first victim to die.
"All I can say is she wore a veil and practised Islam in the proper way. A real Islam, not the terrorists' version," he said.
Many others were killed in the brutal attack on Friday, most were French, however Nice is a popular tourist destination, and the international death toll is high.

FRANCE
Emmanuel Grout
, 48, a senior border police commissioner, was among those killed, along with
Robert Marchand
, a 60-year-old industrial supervisor from Marcigny in eastern France. 27-year-old
Timothy Fournier
from Paris died throwing himself in the way of the lorry, trying to protect his pregnant wife.
David Bonnet
, from Nerondes, also perished.
Ibrahim H
a football referee from Nice lost two members of his family that night. His son
Mehdi
, 13, and sister in law
Fatima
were killed by the hurtling lorry, while Mehdi's twin sister Chérine is in a coma.
Olfa Ben Souayah Khalfallah
, 31, and her son
Killian
, four, from Lyon, France were both killed. his father, Her husband frantically searched local hospitals for his missing son, however, on Saturday, he learned that his son had also died, a close family friend told local paper Nice Matin.
GERMANY
A teacher and two students from Berlin are feared dead after German officials confirmed they were missing.
According to the Berlin school board, they were from the Paula-Fürst-Gemeinschaftsschule in Charlottenburg and had been on a trip to celebrate their end of year exams.
POLAND
Magdalena
, 21, and
Marzena Chrzanowska
, 20, two sisters who were on holiday with their two other sisters were killed in the attack, the priest in their hometown of Krzyszkowice in the south of the country told
AFP
.
Two Armenians, a Ukrainian and a Swiss national were also among those confirmed dead. Estonia's Foreign Ministry said it was aware that two Estonian nationals were among the injured.
ITALY
An elderly Italian couple may have been among those killed or injured after relatives said they had not been able to contact them since Friday.
Angelo D'Agostino
, 71, and
Gianna Muset
, 68, were known to be at the Bastille celebrations in Nice when the terrorist struck.
SWITZERLAND
Linda Casanova Siccardi
, one of two Swiss nationals confirmed dead, is described in a trade union newsletter as one of the country's first female customs officials.
USA
Americans Sean and Brodie Copeland were killed in the #NiceFrance attack https://t.co/ZK8KQVsPDwpic.twitter.com/QLI4PpQy7Q

— BuzzFeed News (@BuzzFeedNews) July 15, 2016
American tourists Sean Copeland, 51, and his 11-year-old son Brodie were also killed.

"We are heartbroken and in shock over the loss of Brodie Copeland, an amazing son and brother who lit up our lives, and Sean Copeland, a wonderful husband and father. They are so loved."

TUNISIA

Four Tunisians are known to have died in the attack.Bilal Labaoui was with his brother Walid when the lorry hurtled towards them. Walid was seen spending the night kneeling on the road next to his brother's body, according to the French daily Le Monde. Mohamed Toukabr, a fellow Tunisian in his late 50s who worked as a mechanic in Nice was also killed.

MADAGASCAR

Mino Razafitrimo

, 31, from Madagascar died, leaving behind children, aged four and six. A friend said she was active in the Malagasy community in Nice.

ALGERIA

Two Algerian children and a 70-year-old Algerian woman who was visiting her daughter in Nice were also killed, the country's foreign ministry's spokesman said. According to reports, the woman's name was Ferkous Zahia Rahmouni.

A Facebook page titled

SOS

Nice was set up in the wake of the attack to help people find their friends and family in the bedlam that followed. After several hours the page started to report that many had been reunited, safe and well. Please be aware that so far, only 35 people have been formally identified by French police as not to give out misleading or incorrect information at such a desperate time.