Four killed in Almaty 'terrorist' shootout
Comments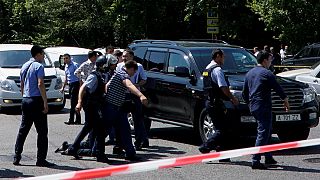 At least three policemen and one civilian were killed in street shootings in Kazakhstan's largest city Almaty on Monday (July 18), security officials said.
One suspect was arrested, a man in his twenties said to be close to Salafism, an ultra-conservative school of Islam.
Authorities said the gunman attacked a police station and an office belonging to the Kazakh secret service, and also tried to hijack a car, killing its driver, before he was himself wounded by police.
It's the second attack on security forces in as many months. It fans fears of a growing Islamist threat in this mainly Muslim central Asian nation.
President Nursultan Nazarbayev, Kazakhstan's authoritarian leader since 1989, called Monday's shootings a terrorist act. He convened an emergency cabinet meeting and ordered tighter security in public areas.
Last month, men said to be Islamic State sympathizers attacked gun stores and a military facility near the Russian border, killing seven people.