Three police officers dead in attack by 'multiple gunmen' in Baton Rouge, US
Comments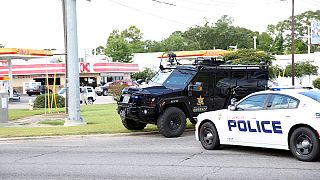 Two suspects are believed to be on the run after a shooting in the US city of Baton Rouge, Louisiana, which left three policemen dead and three more injured.
A third suspect was killed at the scene of the attack.
Police had attended reports of a shooting near police headquarters when they came under automatic weapons fire.
The incident follows an ambush on officers in Dallas which left five dead ten days ago. That shooting came during a protest about police violence which itself was triggered by the killing of two black men, one in the city of Baton Rouge.
Police described the situation as active and asked the public to report any sightings of possible suspects.
"If they are wearing army fatigues; if they are wearing all black; if they are wearing a mask; if they are wearing anything that's out there, please, give us a call," Baton Rouge Police Corporal L.J. McKneely said.
The scene is being checked for explosives, but the motive of the attack is not clear.
Earlier this month, Alton Sterling, 37, was shot dead by Baton Rouge police officers apparently after being restrained and wrestled to the ground. His killing, together with the death of Philando Castile a day later sparked nationwide anger and widespread protests. In both cases the suspects were black and the police officers predominantly white.