Turkey 'coup attempt' underway - prime minister
Comments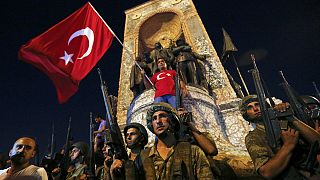 At least 60 people have died following last night's attempted military coup d'etat and some 336 were arrested for their role in the plot to overthrow the government.
The Turkish military last night released a statement saying they had taken control of the country in the name of democratic order, although the government said that the coup was organised by a minority group.
The military gave Turkish state broadcaster TRT a statement which confirmed a coup d'etat and that martial law had been imposed.
The statement said that the military action was in protest against the corruption in Turkey's government that has infected the country's democratic and secular rule, and that Turkey would now be ruled by a "peace council".
Military said they had taken control
PM confirmed coup attempt was underway before it was culled by police
Istanbul bridges were closed before soldier began to surrender
Social media blocked
Directo | Erdogan asegura que los golpistas son una "minoría" entre los militares https://t.co/ZP9qF1OFYBpic.twitter.com/akgUZAv1sM

— EL PAÍS (@el_pais) 15 July 2016
Turkish President Recep Tayyip Erdoğan was confirmed to be "safe" by government sources who said that he was away on holiday.
He later spoke to CNN Turk via mobile phone, saying that the events were a minority coup and urging Turkish people to gather in squares to protest and afterwards gave a press conference saying those involved would be punished.
Turkish Prime Minister Binali Yildirim said that the military were acting outside the chain of command and security forces are working to resolve the situation.
"The government elected by the people remains in charge. This government will only go when the people say so," he remarked earlier. He said those responsible for the attempted coup will "pay the highest price".
YIldirim insisted that the government remained in power, although unnamed military sources said that it had taken over for "democratic order".
The Bosphorus and Fatih Sultan Mehmet Bridges in Istanbul were closed by the Turkish military, although they say human rights will remain.
Dogan News Agency showed queues of cars and buses being diverted.
Tanks were stationed outside Istanbul airport and one the two bridges.
Witnesses said that military jets and helicopters could be seen flying over Ankara, and gunfire could be heard in the Turkish capital.