Witnesses to Nice attack shed light on events
Comments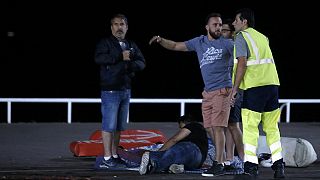 Eyewitness accounts have begun to emerge after Thursday's terrorist attacks in Nice.
Bodies went flying like bowling pins
The driver of the lorry mounted the curb and accelerated into the crowd of people on the Promenade des Anglais, mowing down everyone in its path, according to one man's account.
He said it took close to half an hour for firefighters to arrive and that there was no security.
Another man recalled a stampede of people rushing to get out of the way.
He said bystanders were "crushed by all these people who were running. We turned this way and that and we didn't understand what was happening. Everyone was shouting and crying."
Damien Allemand of the Nice Matin newspaper said that he would never forget the screams, and that "bodies went flying like bowling pins".
Calculated attack
The former Mayor of Nice, Christian Estrosi said that the driver had apparently implemented a structured, premeditated attack, shooting from the window as he ran down bystanders.
No one has yet claimed the attack which claimed the lives of 80 people, including children, although terrorist groups ISIL and Al Qaeda have both been linked to terror attacks in the past involving vehicles.
Many still missing
People have been searching for their loved ones using the hashtag #Recherchenice.
#Nice#PortesOuvertesNice#recherchepic.twitter.com/Ka5d2DrkHt

— Saвrιna van Eιjĸ ® (@sabje2410) 14 July 2016
French interior minister Bernard Cazeneuve said that 18 people remain in a critical condition in hospital, and that 80 have already died.