'We are facing a long battle' says Hollande in wake of Nice attack
Comments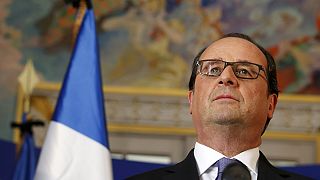 Speaking in Nice, after at least 84 people were killed after an attacker drove a truck through a crowd celebrating Bastille Day, French President Francois Hollande said: "We are facing a very long battle."
Our enemy will not stop striking at all peoples and all countries that have freedom as an essential value
"Because our enemy won't stop striking at all peoples and all countries that have freedom as an essential value." he continued.
"We must respond to this challenge and do it in the right way – without hesitation and using all necessary means".
The French President, who was speaking on Friday afternoon after visiting some of the wounded in hospital, warned that the Nice death toll was likely to rise.
"There are 50 people are still in critical condition, fighting for their lives.
"Among the victims, there are French people, and also lots of foreigners and lots of children," Hollande said.