Around the world people pay tribute to victims of Nice attacks
Comments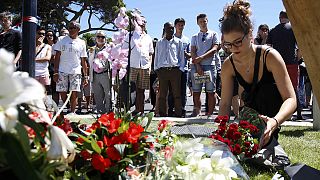 Around the world people were united in grief and solidarity as they honoured the victims of the attack in Nice.
Sydney
In Sydney, Australians stood side-by-side with French nationals at a vigil where they lit candles and sang the Marseillaise.
Fighting back tears, a French student said 'We love our country' but added 'this needs to stop, we've had enough.'
Candleilght vigil held in Sydney for #NiceAttack victims https://t.co/4IOecX1JVO#PrayforNicepic.twitter.com/wmy7aT93gD

— The Daily Telegraph (@dailytelegraph) July 15, 2016
Moscow
Outside the French embassy in Moscow, people left flowers at a makeshift memorial to show their solidarity. A message written in English simply said, 'Stay Strong'.
Moscow Mourns Victims of Nice Attack At French Embassy https://t.co/PrKzOIQW0I#PrayForNice#Russia#Francepic.twitter.com/Xd8hOetqD5

— The Moscow Times (@MoscowTimes) July 15, 2016
Berlin
The French flag stood at half-mast at the country's Berlin embassy. One person told reporters, they weren't worried about another attack, but added the intelligence services should be.