Amateur video shows police close in on Nice truck attack driver
Comments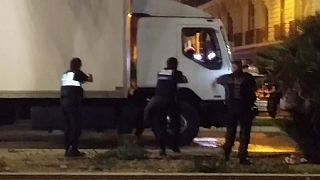 Amateur footage shows the moment police surrounded the white truck which plowed into a crowd in Nice.
The driver had zig-zagged across the busy seafront promenade for almost 2km.
According to French newspaper Le Figaro, three local police officers were the first to respond, chasing the vehicle for 200m before it came to a standstill outside the Westminster Hotel.
The driver apparently then opened fire on officers before being shot and killed by police.
Photos showed the windscreen riddled with bullets.
The man behind the wheel has been identified as Mohamed Lahouaiej Boisvert, a 31-year-old Tunisian born Frenchman. He was known to the authorities for petty crimes but was not on a terror watch list.