Wildfires brought under control in southern France and Spain
Comments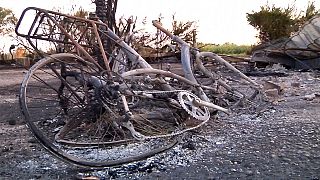 In the south of France, 3,000 holidaymakers in Torreilles were evacuated on Wednesday after strong winds whipped up a wildfire and more than 20 bungalows were destroyed.
The fire had been fully extinguished by Thursday morning.
In southern Spain, hundreds of residents and tourists were evacuated from the resort town of La Linea in the Costa del Sol on Tuesday
Local government sources suggested that the fires, which were in two different locations were started intentionally, Spanish media reported.
The blazes were brought under control on Wednesday, with people able to return to their homes and accommodation.