Italy crash: Andria station master 'allowed crash train to pass'
Comments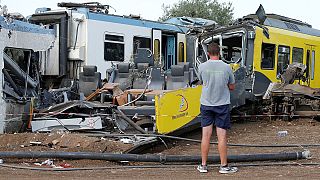 Italy's president Mattarella met the families of the victims of Tuesday's train crash in Southern italy at a hospital in Bari.
While camera's waited outside, one man told journalists the president assured them that the inquiry into what caused the head on collision would not stop until justice is done.
As had been previously suggested, human error was most likely at the heart of the catastrophe between Andria and Corato caused the deaths of at least 23 people.
The line relied on an antiquated communications system, using telephone calls to coordinate traffic on the single line track.
The now suspended Andria station master Vito Piccarreta said he had allowed one of the trains to pass but insisted he was not the only one at fault and that he is a victim too.
Money had been set aside by the EU for refurbishing the line, although corruption is said to be behind the lack of renovation.