Human Rights Watch condemns Hungary for 'cruel and violent treatment' of migrants
Comments
By
Euronews
with
AFP, Human Rights Watch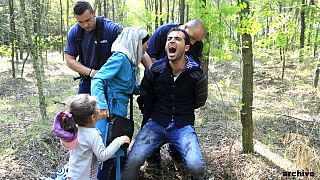 Hungary has been criticised for the "cruel and violent treatment of migrants."
Human Rights Watch accused those in positions of authority, such as the police and armed forces, of beating people before forcibly ejecting them back across the border into Serbia.
"Migrants at Hungary's border are being summarily forced back to Serbia, in some cases with cruel and violent treatment, without consideration of their claims for protection," the New York-based rights organisation stated on its website.
The NGO's new report includes eyewitness accounts given between April and May, 2016, by 12 migrants. They described being abused by officials, but also a local so-called civil militia which was patrolling the frontier.
French agency AFP received an emailed statement from the Interior Ministry in which Budapest rejected the claims.
The rights group is described as "misconstruing the rules relating to the asylum proceedings out of obvious ignorance of the situation."
So far in 2016, eight complaints have been filed, the statement said. Investigators are said to have concluded that the cases were unfounded.
"Hungary observes the Schengen rules relating to border controls as well as the Geneva Convention," the statement continued, adding that the country guarantees legal entry and the filing of asylum requests.