Cyprus: Roman era mosaic found during Larnaca sewage works
Comments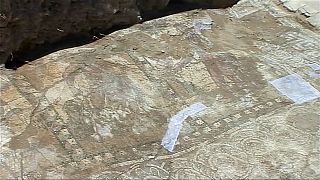 A rare Roman era mosaic has been discovered in Cyprus during excavations in the coastal city of Larnaca.
Almost 20 metres long by 5 metres wide, experts say it appears to be part of a complex of baths in good condition with sections representing the accomplishments of Hercules.
The island was under Roman control from 31 B.C. to the 4th century A.D..
The mosaic was discovered during delicate construction work on Larnaca's sewage system. More is expected to be uncovered as works continue.
It's to be transferred to a new dedicated wing in a city museum.