Stunning drone footage of the world's biggest cemetery in Iraq
Comments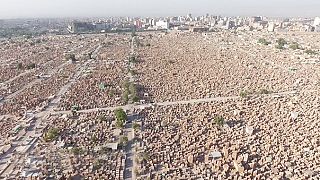 Wadi al-Salam cemetery in Iraq is considered the world's biggest cemetery, according to an Amusing Planet report.
Sprawling over 1485.5 acres, the site contains over 5 million graves.
Those buried at Wadi al-Salam are mostly Shia Muslims, according to the BBC, which include victims of ISIL.
The cemetery is located in the Shia holy city of Najaf and its name translates to "Valley of Peace".