Southern Italy train crash possibly caused by "human error"
Comments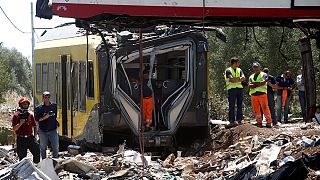 The antiquated communications system used to regulate traffic on the line where two trains collided on Tuesday has been mooted by investigators as a possible line of inquiry.
Dozens of rescue workers are still searching the wreckage and officials are looking into one of the black boxes recovered from the scene of the crash.
Aerial photograph shows tragic scale of train crash near #Andria in Southern #Italy – at least 10 feared dead pic.twitter.com/iHGh9w2Vpk

— Julián Miglierini (@julianmig) 12 July 2016
An outdated communications system which relied on telephone calls between station masters, was used to monitor and regulate traffic on the line, and "human error" is regarded as a potential line of inquiry.
Instead of having an automated alert or brake system in place, station masters had to communicate with each other in phone calls to advise of trains running on the single track.
Railway police Commander Giancarlo Conticchio told the Associated Press that "surely one of the two trains shouldn't have been there,
"And surely there was an error. We need to determine the cause of the error."
Prosecutor for the Trani area Francesco Giannella said that all other possible causes must be ruled out before the incident is put down as a result of human error.
Speaking of the investigation Giannella said: "We will start with the immediate situation then deepen the investigation to try to understand if there is an organisational or technical problem beyond any human errors made by individuals, if any were made."
The head-on collision which occurred on a remote single-track line north of the city of Bari claimed the lives of at least 23 people, and relatives of passengers say more could be missing.