Solar Impulse 2 touches down in Cairo in penultimate leg of historic tour
Comments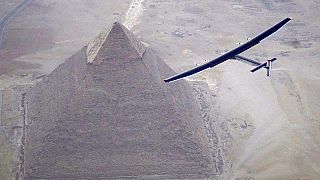 In the penultimate stage of an historic round-the-world tour, Solar Impulse 2 has landed in Cairo.
The plane, powered purely by the sun's energy, will complete the 16-month journey in Abu Dhabi in the United Arab Emirates.
BREAKING @andreborschberg has landed in #Cairo after 2 days of flight & a flyover of the #Pyramids! #futureiscleanpic.twitter.com/HD4J5XOHH5

— SOLAR IMPULSE (@solarimpulse) July 13, 2016
Piloted by Swiss airman Andre Borschberg, the 16th leg took more than 50 hours to reach the Egyptian capital after initially taking off from Seville in Spain.
Fellow Swiss pilot Bertrand Piccard has shared the flying duties.
The penultimate leg took the fuel-free aircraft over the Mediterranean Sea, then through the airspace of Algeria, Tunisia, Italy, Malta and Greece before soaring over some of Egypt's most famous landmarks to reach Cairo.
We are thankful for your warm wishes and we are looking forwards to touchdown in #AbuDhabi! https://t.co/llXhlR6GAK

— SOLAR IMPULSE (@solarimpulse) July 13, 2016
WATCH: Euronews' Jeremy Wilks talks to Solar Impulse pilot André Borschberg on Facebook Live