Post-Brexit stability at last as Larry the Cat remains at Number 10
Comments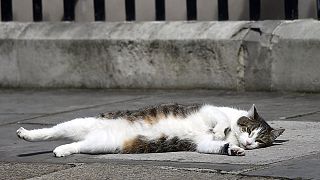 David Cameron and George Osborne have not been the only Downing Street occupants pondering their removal from the heart of power.
The question of whether to Remain or Leave has also concerned Larry the Cat – who has been a familiar presence since he moved into the prime minister's residence five years ago.
According to a government spokesman, Larry belongs to a civil servant and not the Cameron family and will, therefore, be staying put.
Following confirmation that he will be going nowhere, he commented snootily on Twitter about the new arrival at Number 10.
Not sure who Theresa May thinks she is, but she's walking around Number 10 like she owns the place. Oh.

— Larry the Cat (@Number10cat) July 13, 2016
Rumours that Cameron and the cat didn't get on even became the subject of a parliamentary question on the outgoing prime minister's last day:
"And the rumour that somehow I don't love Larry, I do. And I have a photographic evidence to prove it," David Cameron told MPs, as he duly held up a picture that also appeared on his Twitter account. "Sadly I can't take Larry with me. He belongs to the house and staff love him very much, as do I."
Proof… pic.twitter.com/UZVXn6WcUw

— David Cameron (@David_Cameron) 13 juillet 2016
Larry was adopted from Battersea Dogs and Cats home to help scare mice and rats away from Downing Street.
In earlier years, Larry's role was filled by Humphrey, who was retired in 1997.
At last, some stability: Larry the Cat will remain at 10 Downing Street https://t.co/LeeJctJrl5#press

— #AnonThought❌ (@Anonthought_) 12 de julio de 2016