Cameron's last words as Prime Minister
Comments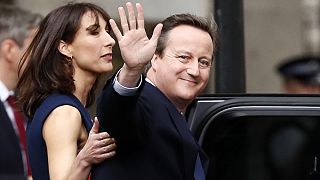 As Theresa May set her sights on the future, outgoing British Prime Minister David Cameron took the time to examine his past on his last moments in office.
In his last words in front of Downing Street he said "We've not got every decision right…but our economy is immeasurably stronger." Cameron is may be hoping that history will judge him in a kinder light once the dust has settled on Brexit.
He pointed to employment figures and the recognition of same-sex marriages as some of his victories while in office. However, others will point to social welfare cuts as well as an economic recovery centred on London.
He is also leaving a divided country, with an emboldened Scottish National Party calling for a second independence referendum.
Of his successor he said:
"I'm delighted that for the second time in the British history the new Prime Minister will be a woman and once again a conservative. I believe Theresa will provide a strong and stable leadership in fulfilling the Conservative manifesto of which we were elected. And I wish her well in negotiating the best possible terms for Britain's exit from the European Union."
Many historians will point to Brexit as one of Cameron's most important legacies, for those who voted out, a success, for those who wanted to remain a tragedy.