Moroccans in uproar over imported Italian waste
Comments
By
Euronews
with
North Africa Post, ceecec.net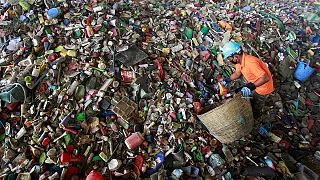 Moroccan citizens are in uproar over their government's decision to accept 5.5 percent of Italy's annual waste.
They are concerned the rubbish is toxic and have set in motion a petition to put a stop to the plans.
The new, three-year deal will see 5 million tonnes of refuse arrive in Morocco's El Jadida region, from Italy.
It has already begun, with the delivery of some 2,500 tonnes of plastic and rubber waste from Campania in early July, 2016. The south-west Italian region suffered a waste crisis for years. Between 1994 and 2008 Campania existed under a formal state of emergency.
But the North African country's government insists the waste "does not contaminate the environment" and says the imports will be put to good use. It is planning to convert the Refuse-Derived Fuel (RDF) into energy intended to replace fossil fuel.
Morocco, which is to host the COP22 climate change summit in November, recently followed in the footsteps of other countries in banning plastic bags. However, these are now among the rubbish items being imported from Italy.
The Moroccan Coalition for Climate Justice has called for transparency. It has urged the government to make public all documents related to the plans, to ensure the deal complies with local regulations and international conventions.