Classmate of Mexico's missing students was tortured according to Human Rights Commission
Comments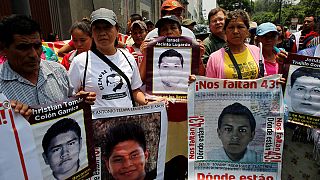 Mexico's National Human Rights Commission has released new findings in the case of 43 students who disappeared two years ago.
It claims torture was used against a classmate whose body was found the day after the others went missing .
Student Julio Cesar Mondragon Fontes was brutally beaten, tortured and eventually killed.
He attended the same school as the dozens who went missing but was not among the group of people allegedly taken by police in cahoots with drug gang Guerrero Unidos.
Mondragon was one of six people killed in the city of Iguala when police attacked students from the Ayotzinapa Rural Normal School, a teachers college, on September 26 in 2014. His 43 classmates disappeared after police turned them over to a crime gang.
Families of the victims continue to protest at the lack of justice – although dozens of members of a drugs gang and local police have been arrested no one had yet been tried.
An independent panel commissioned by the Inter-American Commission of Human Rights (IACHR) has accused the Mexican government of stonewallin their investigations from reaching the truth.