Sanders backs Clinton to be next US president
Comments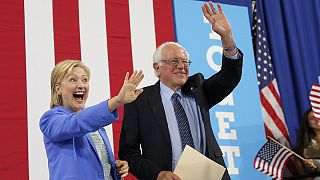 US Senator Bernie Sanders has officially endorsed Hillary Clinton for the democrat presidential nomination ahead of the party's July convention.
Appearing side-by-side at a joint rally in New Hampshire, Sanders vowed to do everything to get his former rival in the White House.
"She will be the Democratic nominee for president and I intend to do everything I can to make certain she will be the next President of the United States."
The Vermont Senator's backing is a major boost for the former Secretary of State as she prepares to take on her all but certain challenger for the presidency Donald Trump.
Many of Sanders' policies have made it onto the Democrat manifesto, including a $15-an-hour minimum wage.