Fresh fighting erupts in South Sudan after UN warns attacks 'may constitute war crimes'
Comments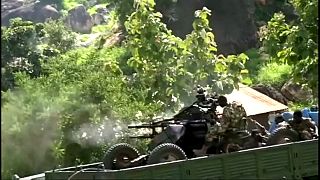 Fresh clashes have erupted in Juba between forces loyal to the president and those supporting the vice president, renewing fears South Sudan will slip back into full-blown civil war.
The fighting in the capital comes just hours after the United Nations warned attacks against civilians and its personnel may constitute war crimes.
At least one Chinese UN peacekeeper has been killed and a number of Chinese and Rwandan staff injured, the Japanese ambassador and current president of the UN Security Council confirmed.
"The Security Council members stressed that attacks against civilians and UN premises and (…) may constitute war crimes. The Security Council expressed readiness to consider enhancing UNMISS to better ensure that UNMISS and the international community can prevent and respond to violence in South Sudan," said Koro Bessho.
UNMISS, or the United Nations Mission in South Sudan, is on the ground to support the government in peace consolidation and conflict prevention, among other tasks.
Forces loyal to Vice President Riek Machar claim his residence was attacked by President Salva Kiir's troops. Kiir did not immediately respond, but his Information Minister has urged people to remain at home, despite claiming the situation is under control.