Euro 2016: Distraught French football fan consoled by young Portugal supporter
Comments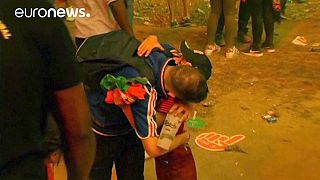 After France's defeat at the hands of Portugal in the final of UEFA Euro 2016, many French supporters were left disgruntled at the loss, having come so close to victory.
It all became too much for one French supporter in the Paris fan zone, who broke down in tears at his team's defeat.
In one of the best shows of good sportsmanship during the tournament, both on and off the field, a young Portugal fan consoled his distraught, French counterpart, hugging him and giving an encouraging pat on the shoulder.
The display of kindness is a far cry from the violent scenes often seen throughout the competition and sheds light on a more positive side of football.