Turkey: outrage after deadly fight between residents and refugees
Comments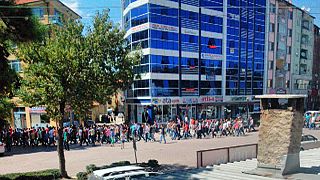 A protest against Syrians living in the Beyşehir district of the Central Anatolian province of Konya took place after the funeral of an 18 year-old boy killed during a fight between refugees and residents.
Hundreds of mostly young demonstrators gathered in the city centre social media and marched to protest the death of local resident Mehmet Bayraktar who suffered a stab wound to his heart.
Bayraktar and a Syrian refugee died in the incident while another three were wounded in the fight which erupted over the kicking of a stray dog on Saturday evening.
Beyşehir district which is known for its beautiful sunsets is not known for incidents of violence. The incident caused outrage also on social media. Residents of Beyşehir sharing posts on Twitter and Facebook saying that they don't want Syrians in their district.