Obama cuts short visit to Spain
Comments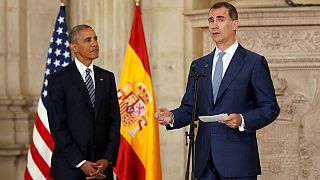 US President Barack Obama arrived in Spain on Sunday for a visit which was interrupted after five white police officers were shot dead by an African-American war vet in Dallas on Thursday.
Obama was welcomed by Spain's King Felipe at his palace in Madrid and was later due to meet President Rajoy, who is still seeking allies to form a new cabinet, for talks.
Spain remains split between four political forces and unable to find a new government after more than 200 days. Rajoy's Popular Party won the last legislative elections, held on June 26 just six months after the previous poll.
Now that Britain has voted to leave the EU the United States is likely to pay closer attention to its relationships with large EU states such as Spain.
"We've had a difficult week back in the United States, so my trip is a little abbreviated, but I found it was very important for me to come here, given the very important friendship and alliance which exists between Spain and the United States," Obama said.
Obama also said that Spain is a strong ally, both in NATO and in the campaign against Islamic State.
More people now speak Spanish in the United States than they do in Spain and the Hispanic community is growing.