Hundreds arrested as US police protests continue
Comments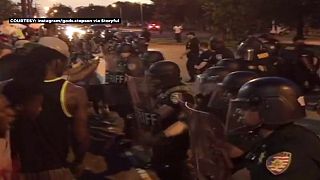 Hundreds of people have been arrested in the US following fresh protests against the recent killings of two black men by police.
In Baton Rouge, Louisiana, where 37-year-old Alton Sterling was shot dead by officers last Tuesday, armed Black Panther activists confronted the authorities. More than a hundred people were reportedly detained.
In St Paul, Minnesota, protesters forced the closure of a highway and hurled fireworks and other projectiles at police.
Anger in the city remains at boiling point over the killing of 32-year-old Philando Castile on Wednesday.
The situation in Dallas, where five white police officers were gunned down by a sniper on Thursday night, also remains tense.
Amid fresh security fears, officers and residents in the city are still trying to come to terms with the shootings.
Hundreds of people, including Dallas Mayor Mike Rawlings, continue to pay tribute to the five dead officers at a makeshift memorial outside the city's police headquarters.