Euro 2016: Paris prepare for showpiece final
Comments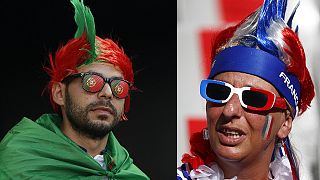 Paris is preparing for its biggest
football match in nearly 20 years, as hosts France face Portugal in the Euro 2016 final tonight.
Thousands of fans have descended on the capital ahead of the showpiece event with France gunning for their third major title on home turf.
''My father is French, my mother is Portuguese, so I'm proud to support both countries. There is no problem. I will be happy whatever happens,'' said one French women.
Victory for France would be a much welcome boost following November's terrorist attacks.
But, standing in their way at the Stade de France will be a Portugal side who have scrapped to get where they are.
"We started preparing ourselves psychologically for this match. We'll see who wins but we hope it's Portugal. After the match, we're going straight to the car and heading back for work tomorrow morning at nine,'' said one Portuguese supporter from Switzerland.
Outside the stadium desperate supporters, as far a field as New Caledonia are still doing what they can to get in.
"We tried to find tickets two and a half months before the first game but we haven't been able to find any. We're still trying to see what we can do at the ticket sales office, but we're still waiting," said one French supporter from New Caledonia.
Security both in and outside the stadium remains ultra tight with more than 5000 police deployed at key venues throughout the capital.
Nevertheless, officials have said there will be no victory parade should France win.