Dallas gunman was planning larger assault - police
Comments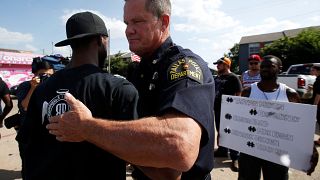 Dallas gunman practiced with explosives
Investigators analysing attacker's journal
Memorial set up outside Dallas Police HQ
Micah Johnson, the US military veteran who last week shot dead five police officers in Dallas was planning an even larger attack, according to the city's police chief.
Evidence reportedly found at Johnson's home points to him having been practicing detonating explosives. Investigators are also trying to discover the significance of the letters "RB" that the gunman had written in his own blood, near where he was killed by a remote detonation by police.
Officers have also discovered a journal found in Johnson's house that is proving "hard to decipher", police said.
Along with the five dead officers, seven others were wounded in what's been described as the deadliest day for US law enforcement since 9/11.
Johnson launched his attack in Dallas as a protest was taking place against the deaths of black men at the hands of police.
The five officers killed in #Dallas protecting protesters. https://t.co/JHmNNerlr1pic.twitter.com/JcxJSH6pwO

— Fox News (@FoxNews) July 10, 2016
Before he was killed in a standoff with police Johnson reportedly said he wanted to kill white people especially white police officers, after a string of police shootings of black men in US cities.
So far Johnson appears not to have been part of any larger group.
Despite that the city remains tense – on Saturday Dallas police headquarters and surrounding blocks were briefly cordoned off following what the authorities called a credible threat to officers.
Memorial
A makeshift shrine in memory of the five officers gunned down on Thursday night sprang up outside police headquarters in the Cedars district of the city within hours of the attack, and it is now a mass of flowers, balloons, stuffed toys and messages of sympathy.
A memorial built around a pair of squad cars outside of Dallas police headquarters continues to grow. pic.twitter.com/YIvzMW0KKR

— Trymaine Lee (@trymainelee) July 10, 2016
#DallasStrong Candlelight Vigil pic.twitter.com/soP3hqmI2B

— Dallas Police Depart (@DallasPD) July 10, 2016