Dallas police defend use of robot to kill gunman
Comments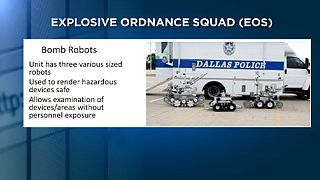 Authorities in Dallas have defended their decision to use an explosive-laden robot to kill a man who shot dead five white police officers in the city.
Suspected gunman Micah Xavier Johnson, who served as an army reservist in Afghanistan, was killed by a remotely controlled device following a several hour stand-off on Friday.
Experts have said the tactic raises serious ethical questions, but Dallas' Mayor Mike Rawlings hit back saying the alleged sniper was given every chance to surrender.
"The same automated robot equipment to detonate and defuse bombs was used to place C4 in place and to detonate that. He had a choice to come out and we would not harm him, or stay in and we would. He picked the latter," Rawlings said.
The Los Angeles Times reported officers deployed the robot after Johnson suddenly started firing again with an assault rifle.
A clearer picture is emerging of the 25-year-old gunman who authorities believe had links to 'black power' groups.
Officials say he wanted to kill white people, especially white police officers, following a spate of shootings of black men by police, which has sparked a wave a national protests.