Soyuz craft docks at International Space Station
Comments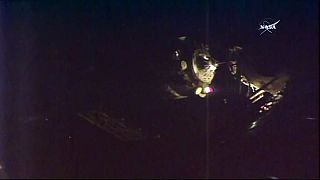 Russia's Soyuz spacecraft has successfully docked with the International Space Station where its 48th mission is underway.
Russian cosmonaut Anatoly Ivanishin, NASA astronaut Kathleen Rubins and Japanese astronaut Takuya Onishi were onboard the craft and joined Russian cosmonauts Oleg Skripochka, Aleksey Ovchinin and NASA astronaut Jeffrey Williams at the station.
Among the scientific experiments being carried out are the testing of DNA sequences in space, investigating bone loss in space and tracking ships around the world.
New technology will allow scientists to track animal movements using images taken on the International Space Station https://t.co/N9TYy8tIbb

— Chelsea Clinton (@ChelseaClinton) July 8, 2016
The Soyuz craft was launched from the Baikonur Cosmodrome on July 7 and before docking orbited Earth 34 times.
For more than 15 years, humans have been living continuously aboard the International Space Station to advance scientific knowledge and demonstrate new technologies, making research breakthroughs not possible on Earth that also will enable long-duration human and robotic exploration into deep space.