The Red Dragon's roar is silenced by Portugal
Comments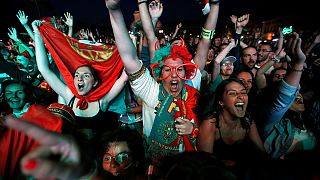 Portuguese football supporters have been celebrating their 2 : 0 win over Wales in the Euro 2016 semi-final.
While at home in Lisbon it was party time in the main stadium where locals had watched the match on big screens, over in Lyon the celebrations were equally ecstatic.
At the fanzone near the Stade de Lyon where the match was played, some supporters admitted their side had been slow to set the tournament alight.
Wales have already surpassed all expectations on their first ever appearance at the European semi-finals, however Portugal have reached the last four despite not winning a game in 90 minutes.
"If we assume that to get to the final you have to win and not to lose, then yes, we deserve our place in the final. Croatia lost, Poland lost, the Welsh lost. We deserve our place in the final more than the others."
And that final will be on Sunday against the winner of the second semi-final between hosts France and Germany.
Greater depth & the will to win of Cristiano Ronaldo were two key factors in Portugal overcoming Wales. Marcotti</a>: <a href="https://t.co/mVCZf0XTMs">https://t.co/mVCZf0XTMs</a></p>&mdash; ESPN FC (ESPNFC) July 7, 2016
For Welsh fans it was a disappointing end to a dream. But there was pride that the players had punched well above their weight.
" I think its been cracking for Welsh football. It's brilliant to make it to a tournament. It shows we can compete at this level," said one Wales suporter.
"There's a lot more to come let me tell you… World Cup qualifiers, we'll be qualifying as a top seed. We've got a lot to offer," said another.
Don't be sad Wales. It's a time to be proud of our country. You lot have given us so much. Diolch yn fawr ❤️ pic.twitter.com/LiGO8WFZJa

— Chris Gunter (@Chrisgunter16) July 7, 2016
The good humour soured slightly at one point with scuffles breaking out among a few supporters but peace was quickly restored.
Our reporter in Lyon was Mark Davis:
"For Welsh fans, the dream is over, they must go back to Wales, back to work. But for the Portuguese, the adventure continues, and crucially, they are peaking at the right time."