New Russian anti-terrorist law sparks sharp criticism
Comments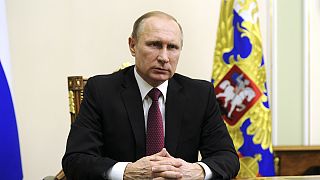 Russian President Vladimir Putin has signed into law an anti-terrorist bill that has been fiercely criticised both at home and abroad for offering huge powers to the security services and administration.
The Russian opposition, some businesses, human rights organisations, mobile phone operators and internet providers add the law is far too vague and open to abuse.
#Putin has signed a repressive new law that violates not only human rights, but common sense. Dark day for #Russia. https://t.co/J4I2SQ9VCe

— Edward Snowden (@Snowden) July 7, 2016
Other critics say it smacks of a return to darker times.
"There are certain articles in this law that take us directly back to the laws of Stalin, notably the lowering of the age of penal responsibility to 14. Under Stalin you could face a firing squad aged 12. How can you punish people this age? We should be saving them from punishment," says Historian and Journalist Nikolai Svanidze.
Supporters of the legislation insist it is an appropriate Russian law for Russian people and will crack down on incitements to violence and fascism.
"This law reinforces the feeling of fear and goes in absolutely the opposite direction from reinforcing civil activity. So either we foster civil society or we foster fear, which weakens civil activity and citizens are steered away from citizenship. This law has no relevance to terrorism and the fight against it, unfortunately!" adds Svanidze.
One provision is that phone companies store all information for up to three years, and they complain the cost of this will be very expensive and could force some to the wall.