Syrian army announces ceasefire covering entire country for 72 hours
Comments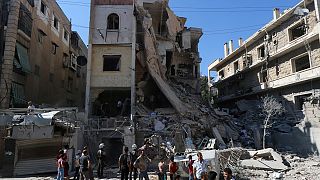 It is a ceasefire in all but name, the Syrian military's declaration of a 72-hour "regime of calm", coinciding with the end of Ramadan, that began at one o'clock on Wednesday morning, and will end at midnight on Friday.
Damascus has avoided calling it a ceasefire, as previous truces have broken down, and have been negotiated. This is simply a gesture by the Assad regime.
President Bashar al-Assad was on national television at prayer at the main mosque in Homs for the festival of Eid al-Fitr, but while all this was taking place bombs and shells continued to rain down on the city of Aleppo.
Rebel groups reported heavy fighting was also continuing in Idlib and the town of Maydaa, and that air strikes were hitting the al-Qaeda affiliated al-Nusra Front and ISIL positions. Neither of these groups have ever been included in this or previous truces.