Muslims across the globe celebrate the end of Ramadan
Comments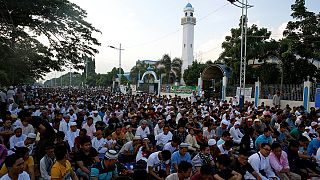 Millions of Muslims across the globe are celebrating Eid al-Fitr to mark the end of Ramadan this week.
In Mecca, Saudi Arabia prayers were attended by hundreds of thousands of faithful. The kingdom was one of several countries to be hit by suicide bombings during holy month of Ramadan.
World wide on the first morning of the Eid celebrations, many gather in local mosques or open-air locations for special prayers.
Literally translated from Arabic as the 'festival of breaking the fast', the religious holiday usually continues for a number of days.
On the Gregorian calendar, the date varies from one year to another and begins when the first sight of the new moon is seen in the sky. The day it falls also depends on where you are in the world.
Airlines in Iran wish a nice #Eid celebrations. #Iranpic.twitter.com/mbN7h7VicU

— Aviation Iran (@aviationirancom) July 5, 2016
For most Malaysians Eid is celebrated by visiting family members at home after prayers have concluded.
For others its with the sharing of local traditional foods.
Whichever way is important the festival highlights the diversity of the global Muslim community.