Kerry pledges support for Georgia's western aims before NATO summit
Comments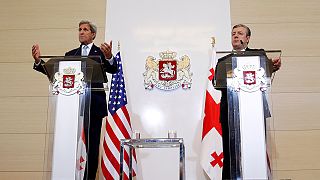 US Secretary of State John Kerry has sought to reassure Georgia of American support during a visit to Tbilisi ahead of a NATO summit this weekend expected to focus on the threat posed by Russia.
Like other ex-Soviet states, Georgia is suspicious of Moscow's intentions – fears which the Kremlin says are groundless.
The two sides signed a memorandum of understanding, under which the US pledges greater cooperation in helping Tbilisi with self-defence measures.
"This is a beautiful and democratic country in a challenging neighbourhood at a testing time. And so I arrive here with a message from President Obama… the United States firmly supports Georgia's sovereignty, security, prosperity and its Euro-Atlantic aspirations," John Kerry told a news conference.
The Secretary of State added that Russia's occupation and militarisation of parts of Georgia's territory were "unacceptable".
He called on Moscow to abide by the terms of a truce that ended a brief war in 2008 over Georgia's separatist region of South Ossetia, saying Moscow should withdraw its forces to pre-conflict positions.
Moscow has accused the West of stirring anti-Russian feelings in some former Soviet states.
Kerry visits Ukraine next. Russia says Foreign Minister Sergey Lavrov spoke to John Kerry by phone on Tuesday, urging Washington to use its influence on Kyiv to prevent "full-scale hostilities" from resuming in Ukraine's Donbass region.