Death toll in Baghdad car bombing rises to 250
Comments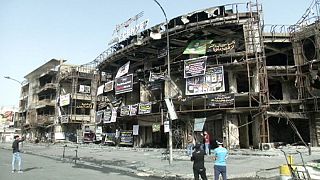 Scores of funerals in Baghdad following massive car bombing
Death toll rises to250
Interior minister offers resignation
Mourners gather in central Baghdad for one of the victims of Saturday night's massive suicide bombing.
The number of people who died in the attack on the Iraqi capital's Karrada shopping district has risen to 250, according to the country's health minister. Another 200 were wounded.
Baghdad Bombing Leaves More Than 200 Dead https://t.co/JQecVjzgNKpic.twitter.com/HWBWMJh6YN

— SourceFed (@sourcefed) July 5, 2016
ISIL militants have claimed responsibility for the deadliest single car bombing since the 2003 US-led invasion.
In recent years there have been several other major attacks by the group including two in 2014. In Nineveh province, north-west of Baghdad, ISIL killed hundreds of minority Yazidi men and boys. In the same year up to 1,700 military recruits were killed at a former US base, in an incident known as the Camp Speicher massacre.
Iraq's Interior Minister Mohammed Ghabban who reportedly described checkpoints dotted through Baghdad as "absolutely useless" has submitted his resignation.
The bombing in a mostly Shia Muslim area just after midnight came a week after Iraqi forces had recaptured the city of Falluja from ISIL.
A reminder that most of Isis' victims are Muslims https://t.co/XvMKIe0fsV

— The Independent (@Independent) July 5, 2016
The powerful blast, centred on a lorry packed with explosives, engulfed the area in flames. Such has been the extent of the destruction that a search of the popular Hadi shopping Center is continuing.
#UNSC strongly deplores heinous & cowardly #Baghdad bombing that killed at least 200 people https://t.co/lUKYbZADrSpic.twitter.com/s6l9eNK7Sj

—

UKUN

_NewYork (@UKUN_NewYork) July 5, 2016