Suicide bombers attack three Saudi Arabian cities
Comments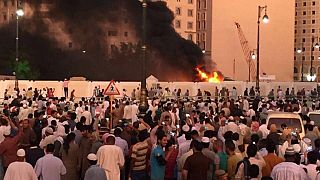 Three suicide bombers have struck in three Saudi Arabian cities just before the end of Ramadan, which runs through Tuesday and Wednesday.
In Medina the bomber set off his device near the Prophet's Mosque, one of Islam's most sacred sites, killing two security officers.
Two other bombers attacked targets in Qatif, on the border with Kuwait, and in Saudi Arabia's second city Jeddah, but without claiming any victims.
The bomber in Jeddah appeared to be targeting the US consulate on America's independence day public holiday.
In Qatif it was a Shi'ite mosque that was targeted by at least one explosion. In May 2015 another Shi'ite mosque in the city was attacked, killing 21 people.
No-one has claimed responsibility for the attacks.