Four security officers killed as bombing wave hits Saudi Arabia
Comments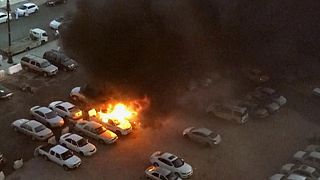 At least four security officers have been killed and five wounded after a suicide bomb attack in Saudi Arabia's holy city of Medina.
It happened in a car park, close to the Prophet's Mosque, the second holiest site in Islam.
The attack was one of three targeting Saudi cities on Monday, an apparently coordinated campaign as people prepared to break their fast on the penultimate day of Ramadan.
In the eastern city of Qatif, there was at least one explosion reported near a Shi'ite mosque, killing the attacker.
And in Jeddah, according to a Saudi security official, another attacker parked a car near the US Consulate before detonating a device.
The bomber died and two people were wounded, in the first blast in years attempting to target foreigners in the Kingdom.
The bombings follow days of mass killings claimed by the so-called Islamic State group in Turkey, Bangladesh and Iraq.