Lights come on again in Venezuela but the country's economic problems remain
Comments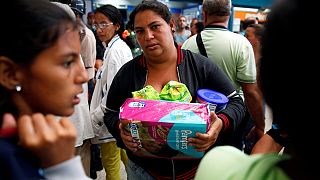 The lights are set to come back on in Venezuela. The rationing of electricity is to end on July 4 according to an announcement from President Nicolas Maduro on Saturday.
Since last April the government had put in place several measures to save power which included cutting the supply in the provinces for four hours a day for a period of 40 consecutive days.
State workers were mandated to a two-day working week in April while in the private sector many businesses have been driven to the brink of bankruptcy as with one garage which is powered entirely by electricity.
"If it goes on like this then in two months time I will have to lay off the staff – the employees will have to go. I can't afford to keep them," explained the manager.
The El Nino phenomenon was to blame. It caused a severe drought which in turn hit water levels in the Guri Dam. It supplies 70 percent of the electricity ration in Venezuela.
Re-starting the hydroelectric power station which is dependent on the dam is expected to end the power shortage the government said as water levels have risen again.
Electricity supply is just one of several problems facing the country. Oil production, the country's lifeblood has plummeted as what is seen as the neglected state-owned energy crumbles.
Oil revenues fell by 41 percent in 2015 compared to 2014 while crude exports contribute 96 percent of foreign exchange.
Many believe the Latin American nation is on the precipice of a disaster. In supermarkets there are empty shelves, food riots have broken out in parts of the country.
Inflation had risen to almost 142 percent year on year in September last year. The IMF has estimated GDP will fall by eight percent this year.
There is a serious food shortage making it difficult for parents to feed the family. It's reckoned 12 percent of the population skips a meal each day.
In this school the days meal for pupils is sweet potato pancakes. Often this is the only substantial meal which the children will have. Parents are often forced swap items for food.
"I asked a mother when I left, if her child had eaten something and she told me: what I got was soap and I'll see if I can change it for something else," school cook Carmen García explained.
Bartering goods or selling them on are two options. Another is to grow your own. Some Venezuelans are turning to urban farming to get vegetables back into their diets. Communities have created communal gardens to grow dozens of vegetables.
The government is backing the scheme and hope the gardens will make up 20 percent of the food supply by 2019.