Defiance in China as incinerator protest turns violent
Comments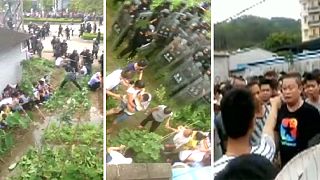 As many as 10,000 people have turned out in southern China to protest against plans to construct a new incinerator.
Thousands of police were on hand to break up the demonstration and clashes erupted.
3000 police face 10,000 people protesting air and drinking water pollution from a new incinerator in Lubu, China.https://t.co/XnljVFrh53

— klanierca (@klanierca) July 3, 2016
The incinerator, designed to generate power and burn waste, is planned to be built near the River Xi.
The river acts as the main source of drinking water for the 70,000 residents of Lubu.
Locals who took to the streets in a rare show of defiance fear pollution from the incinerator to both air and water.
Authorities say that 21 people were arrested and one police officer was seriously injured.
The local Communist Party reported government offices were attacked and called on those taking part to give themselves up.
The demonstration happed after the Lubu town administration had suddenly halted plans for the construction.
Residents expressed their anger believing the
announcement to be temporary and a tactical move to diffuse unrest.
Protests against incinerators and chemical plants are becoming more frequent in China as citizens' concerns grow over threats to public health.